Convert Images To PDF
Instantly convert images to PDF - Free, Fast & Easy! Create Custom PDFs from Any Image
The best online image to PDF converter with the highest quality. Unlimited. No need to register an email or create an account. No need for an app, No watermark add
How To Convert IMages To Pdf Online for Free
You are only 3 steps away from converting the file images to pdf
To convert Image file to PDF, first select Images and click on the "Choose file" button or drag and drop your Images in our online Image to PDF converter. JPG, PNG, BMP,Tiff formats are acceptable.
Click on the "Upload and Convert" button and wait a few moments. The files are processed through the Internet and converting Image files to pdf does not take more than a few moments
Download the PDF file to your device or scan QR code on your phone or send the PDF file to your Google Drive account or Easily email the PDF file to yourself and your friends also you can send the download link to others
Video tutorial on how to convert Images to PDF
In this video, you will learn how to convert a Images file to PDF in a few minutes
Best online image to PDF converter

Images to PDF is100% Secure
We guarantee that all the data you upload to us is completely secure thanks to SSL and other server protection protocols. Additionally, you will maintain all rights to your file, including copyright and usage rights, at all times. Our Privacy Policy provides more details on how we keep your file secure.

Convert Image To PDF
We offer an image to PDF transformation service that is totally free and requires no sign-up. All you need is an image, whether it be a JPG or any other type, plus an internet connection. You can either drag & drop, link, or upload the file from your cloud storage or device. After that, just hit the 'Save Changes' button and we will take care of the conversion process! It really is that simple and convenient!

Convert images to PDF from anywhere
No matter where you are, you can transform your images into PDFs with our free web-based converter. Accessible from any device that has an Internet connection, our image to PDF tool is compatible with Windows, Mac, and Linux. Therefore, you can convert JPGs to PDFs any time you require.
Convert JPG images to PDF documents online without watermark
Transforming photographs or visuals into PDF documents is possible with the right software. It's an intriguing process to convert images into PDFs!
Although there are various image formats available, they all share a common trait: they maintain visual information digitally. This makes it possible to save, distribute, or share the visual data.
PDFs are comparable to images as they are stationary representations of visual information. Nevertheless, PDFs are more focused on text-based information. While pictures can be included in PDFs, they are mainly used to circulate or store documents.
What are the advantages of converting an image to a PDF?
In the majority of cases, most image formats are only capable of saving one image. This is not the case with TIFFs but the vast majority of image formats do not enable the saving of multiple images together in one file. With PDFs, however, it is possible to include pages and pages of images in the same file. This makes it ideal for archiving many images or sharing a group of images in one file. For instance, wedding photographers could easily send a selection of images to their client in one PDF file rather than sending them separately. This would make it easier for the client to view the images and also protect them if the client wishes to edit the images or use them without the photographer's permission.
In addition, if an image is converted to a PDF, various formats can be included in the same PDF, making it more organized and straightforward.
Need to turn an image into a PDF? Our JPG to PDF Converter is here to help! It's absolutely free and there are no restrictions on size or watermarks. Get your custom PDF file in no time!
In a few minutes, convert all image formats to PDF.JPG without quality loss
 Our tool can do it for you! You can upload unlimited images (BMP, GIF, ,JPEG, PBM, PNG or TIFF formats are acceptable) all you have to do is drag and drop your files here. or press the "UPLOAD FILES" button. Our tool will start converting them to PDF as soon as you upload them. When you're done, you can hit the "Download" button below each image in the queue to get the PDF. also.
Ensuring your protection is our top concern. We've got a fully automated server that automatically eliminates all data uploaded within 24 hours. This implies that both your uploaded files and the PDFs created by our server will get removed after a day.
Our online tool can't delete your original files from your computer or phone. When you upload a file, our server creates a copy and then does the conversion. This makes sure your information remains safe and sound!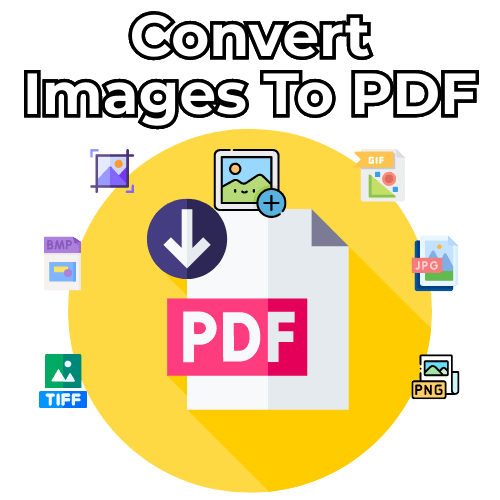 Convert all types of image formats PNG, BMP, JPG, GIF, TIFF, to PDF
Easily transform the most popular image file formats – PNG, BMP, JPG, GIF, TIFF – into PDF documents with our image to PDF converter! All you need is your image and a reliable internet connection. There is no need to download any software – you can quickly and conveniently convert any image to PDF online.
Learn more about converting Imges To PDF
---
Let's learn more about PDF converting
Frequently Asked Questions
Follow this easy guide to add a picture to your PDF in seconds 1- Go to PDFtoConverter's Images to PDF tool. 2- Select the file you want to edit or drag and drop it . 3- select the Choose File button to import a file. 4- After processing the images, click on the upload and convert button 5- Download your edited PDF file.
Yes, -An image can be turned into a PDF by using the PDF printer. -An image can be turned into a PDF by using the PDF conversion feature in Adobe Acrobat. -An image can be turned into a PDF by using the PDF creator in Microsoft Word. - An image can be converted to PDF using the tool " Image to pdf" on PDFTOCONVERTER Easily convert to PDF
JPEG is typically considered to be the best format for storing photographs because it offers a high degree of compression, which results in smaller file sizes. PDF, on the other hand, is often used for documents that require a high degree of accuracy, such as business documents. Because PDFs are uncompressed, they can be larger than JPEGs, but they offer a level of protection that can be useful in some situations.
To create a PDF from images on Android, follow these steps: 1- You can type "PDFtoconverter.com" in the browser. 2- Select the "Image to PDF" tool from the services section 3- Select your image files you want to convert to PDF,from the phone gallery and wait for it to be processed in the system 4- Download the converted PDF file of the images
There are a few different ways to convert JPEGs to PDFs on Windows. One way is to use the built-in Windows photo editor, which can be found in the Start menu under "File" and "Edit" > "Photo Story." Another way is to use a third-party photo editor, such as Adobe Photoshop or GIMP.save the file. Also, you can use our image to PDF converter without installing software.
There are a few methods you can use to convert jpg files to pdf on a Mac. One option is to use the Preview app, which is included with Mac OS X. Another option is to use a third-party application, such as PDF Converter. Also, you can use our image to PDF converter without installing software.
PDFtoConverter.com provides a free online file converter for you to change your JPG, PNG , BMP , TIFF to PDF files. Simply select the file you want to convert, and use the online converter to turn your image into an pdf
.This service is %100 free forever
We do not keep the original file on the server, we also keep the converted file on the server only for 24 hours so that the download link is active. And after 24 hours, the files will be automatically deleted from the server
If you wish, you can delete the file from our server forever by clicking on the "Delete File" button
1- You can download the converted PDF file ,on your device by clicking the "Download" button.
2- You can email the PDF file to yourself or your friends by clicking the "Send to your email" button.
3- You can share the download link of the file with others by clicking the "Download Link" button. Or scan the QR code and download the PDF file in your mobile phone.
Note that the download link is only active for 24 hours and after 24 hours it will be automatically removed from the server.
4- You can send the converted file to your Dropbox or Google Drive account
It's simple, you just have to select the image file from the "Choose File" section. Click the upload and convert button and download the PDF file.
Of course, No alterations will be done to your original file and it will remain stay on your device.
We just store your converted file on the server for 24 hours in order to give you the option to share the download link with anyone you desire.
If you would like, you can choose to remove the converted file from our server instantly by pressing the "delete file" button.
The Best Online Images to PDF Converter
Some User Comments