Unlock PDF online & free
Easily Unlock Your PDFs in Seconds - Try It Free Now!
Enjoy Freedom and Convenience.Unlock Your PDFs Instantly & Securely. No Password Required!
How To Unlock Pdf Online for Free
You are only 3 steps away from unlock pdf file
To remove the password and Unlock PDF file, first select the desired file and click on the "Choose file" button or drag and drop your PDF file in the box. You can also choose PDF from Google Drive or Dropbox.
Click on the "Upload and Convert" button and wait a few moments. The files are processed through the Internet and removing the PDF password or unlocking the PDF does not take more than a few moments
Download the PDF file to your device or scan QR code on your phone or send the PDF file to your Google Drive account or Easily email the PDF file to yourself and your friends also you can send the download link to others
Video tutorial on how to Unlock PDF
In this video, you will learn how to Unlock PDF file in a few minutes
Convert Excel (xls) to PDF without losing quality.

Security & File Safety
You want to remove a password from a PDF, but you are concerned about the safety of your document? Don't worry, PDFtoConverter will make sure to keep your file safe. Secure upload and no manual checking of the file are guaranteed.all rights to your PDF document belong to you and will not go to PDFtoConverter

Unlock your PDFs with ease
Remove locks and passwords from your PDF files for free and absolutely securely. Simply select the locked PDF file, click "Unlock PDF" and download the PDF without password.

Unlock your PDFs and make them accessible online
With Unlock Pdf you can remove the lock and password of PDF. There is no need to install software or register on our site. We're mobile friendly, responsive, and can be used in all browsers and devices—all you need to do is drag and drop the file onto the Unlock PDF web page.
Help Context
Need to use your PDFs freely? No worries! Unlock PDF can make your life easier by removing the password in no time - you'll have your file unlocked within seconds! You can easily unlock a PDF file without having to remember a password. This is the most convenient and secure way to unlock and download your PDF file. With our online service, you don't have to bother with typing in a password each time you open your document. Unlock PDF will give you the freedom to use and send your PDF files without having to remember any passwords. Start using Unlock PDF now and enjoy the freedom to use your PDFs as you please - it's free and only takes a few seconds!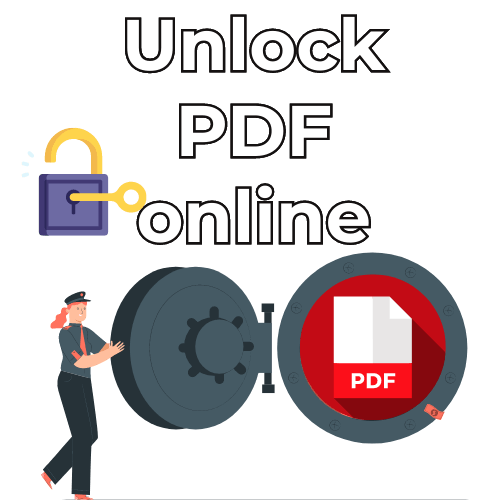 Service Description
.If you don't consider yourself tech-savvy, you can still easily remove the passwords from your PDFs with this amazing tool! All you need to do is select the file you'd like to unlock and upload or drag and drop it into our Unlock PDF tool. No application or software installation necessary. Plus, unlocking the PDF won't take more than a few moments and it's completely free! And if you want to delete your file after removing the password, you can do so right away - or if you forget, the file will be deleted from our server after 24 hours. So go ahead and give it a try - you won't be disappointed!
Learn more about Protect or Unlock PDF
---
Let's learn more about PDF converting
Frequently Asked Questions
If you know the password of the PDF file and want to remove the protection of the PDF file, use the "Remove PDF Protection" tool. Also, if you don't know the password of the protected PDF file, use the "Unlock PDF" tool. These online tools are free forever
You can remove password protection from a PDF file after opening it by following these steps: 1. Open the PDF file in Adobe Reader. 2. Click the File menu and select Properties. 3. Click the Security tab. 4. Click the Password Protection icon and enter the password to unlock the file.
You can unlock a locked PDF by using a password or decrypting it with a password. Another way is to use a third-party tool such as the Unlock PDF tool from PDFtoConverter.com .
There are a few ways to unlock a PDF when the password is forgotten. One way is to try using the password reset feature on the PDF. If that doesn't work, the user can try using a password recovery tool. Or use our free online PDF unlock tool.
To unlock a PDF after signing, follow these steps: 1. Open the PDF you signed in Acrobat. 2. Click the Security tab in the Document Properties dialog box. 3. In the Security area, click the Lock icon. 4. Type a password in the Password text box. 5. Click the OK button. Also you can use online unlock PDF tool on PDFtoConverter site.
To remove a PDF password in Adobe Acrobat, follow these steps: 1. Launch Adobe Acrobat. 2. In the upper left corner of the document window, click the File tab. 3. Click Options. 4. Click the Security tab. 5. In the Password field, type the password to access the document. 6. Click Clear Password. 7. Click OK.
There is no one specific software that can be used to remove password from a PDF file and Unlock PDF. A variety of PDF password removal software is available online and in software stores. Some of the popular options include PDF Password Remover, PDF Password Breaker, and PDF Password Recovery. You can remove PDF file password online and completely free without installing any software.
To unlock a PDF document that has been protected with a password, follow these steps: 1. Open the PDF document in Preview or another PDF viewer. 2. Click the File menu and select Open. 3. In the Open dialog box, click the File Security tab. 4. In the Password field, enter the password you want to use to unlock the document. 5. Click OK.
- Open the PDF in Adobe Reader and click the "Unlock" button on the bottom of the screen. - Open the PDF in a third-party PDF reader and click the "Share" button. Select "Open in Adobe Reader" from the list of options. - Copy the PDF's password and paste it into the "Password" field when you open the PDF in Adobe Reader or a third-party PDF reader.
.This service is %100 free forever
 
1- You can download the unlocked pdf file on your device by clicking the "Download" button.
2- You can email the PDF file to yourself or your friends by clicking the "Send to your email" button.
3- You can share the download link of the file with others by clicking the "Download Link" button. Or scan the QR code and download the PDF file in your mobile phone.
Note that the download link is only active for 24 hours and after 24 hours it will be automatically removed from the server.
4- You can send the converted file to your Dropbox or Google Drive account
The Best Online Unlock PDF
Some User Comments