Rotate PDF online & free
Easily Rotate Your PDF Files in Seconds - Permanently
It's really simple to rotate a PDF document! Just select the file from your device, pick the angle, and hit the button. We promise your PDF is secure on our server! You don't need any special expertise to use this service, and there are no watermarks added to your files.
How To Rotate Pdf file Online for Free
You are only 3 steps away from rotating pdf file
Choose the PDF you want to rotate ,By clicking on the large box above or drag it to the 'Rotate PDF' tool .
Set the rotation direction,Normal, 90 degrees ,180 degrees , 270 degrees and 360 degrees are available.
Click 'Upload' button to start rotating the PDF online.Download the rotated PDF file after processing.
Video tutorial on how to Rotate PDF
In this video, you will learn how to Rotate PDF file in a few minutes
Easy Rotate PDF Permanently page by page or all together

Rotate PDF online securely
You don't need to worry about the security when uploading the PDF for rotation. The file transferring is encrypted, no one can get access to your file. The server will erase the file after 48 hours after processing.

Rotate PDF file quickly online
The easiest way to rotate a PDF file, simply add a PDF file, choose a rotating direction and click 'Rotate' button, we will do the rest. You can download the rotated file in seconds. You don't need the subscription to use the tool, all the PDF tools here are permanently free of charge.

Rotating PDF on any devices
We are a web platform, you only need internet and browser to use pdftoconverter.com, no other software or application is needed and you can rotate your PDF on Windows, Mac, Android, iOS, Linux, or any device.
Rotate pdf and save it that way online
Why should you rotate your PDF? Imagine what happens when a document is scanned upside down or converted from Word or image upside down into a PDF file?
You enter the email address, click on the document button, and a few minutes later you send the reverse PDF file to others. upside down PDF is almost unreadable because they have to turn their neck to read the PDF file. But there is an easier way, instead of turning your neck, you can rotate the PDF file with the PDF rotation tool of pdftoconverter.com. Anyone who receives an upside down PDF file can correct it in a few seconds with our site's PDF rotation tool. rotate 90 degrees 180 degrees 270 and 360 degrees solves all the problems of reading PDF files
To flip a PDF file, drag and drop the desired file, or click the "Choose File " button. The PDF file is processed through the Internet. Then choose the degree of rotation you need. If you don't know how much you should rotate the PDF file, the option " Normal "Choose It doesn't take more than a few seconds and your PDF file is rotated.
You have the ability to rotate your PDFs the way you want. If you want to rotate multiple PDFs at the same time, you can set the desired degrees. You can also choose to only rotate vertical or horizontal PDFs. There are no restrictions on file size, and no annoying ads or watermarks - just a free and straightforward tool to rotate single PDFs or whole documents and save them for good.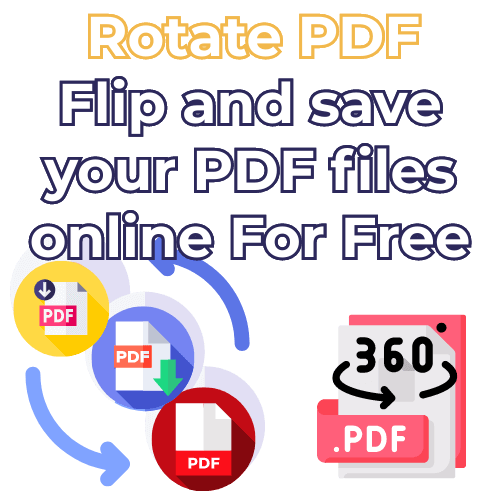 Quickly Rotate PDF Online And Save
If you are looking for a way to rotate your PDF documents online and permanently, without spending a penny, this service is perfect for you! Make sure that "All pages" is selected and decide on the rotation angle you want - 90°,  90° or  180°. It is really easy- all you have to do is upload the PDF file from your computer, pick the angle, and hit the button.
You don't have to worry about the safety of your PDF- it never leaves your browser! The rotation process is entirely carried out by your own device. So don't hesitate and give it a try!
Learn more about Rotate PDF
---
Let's learn more about PDF converting
Frequently Asked Questions
PDFtoConverter.com support multiple platforms to help rotate your PDF files. Use PDFtoConverter.com on your Mac or Windows by opening it in your browser and then selecting PDF files from your local drive or cloud storage to start the process.
In each processing time, you can select a PDF file and turn it into a PDF converter. Note that there is no daily or hourly limit.
Simply open pdftoconverter.com in your phone browser and use the "Rotate PDF" tool. To rotate your PDF file, choose one of the options: 90°, 270°, 180°, 360°. Then easily download the rotated PDF file to your phone.
Choose the PDF you want to rotate ,By clicking on the large box above or drag it to the 'Rotate PDF' tool .
You can download the PDF file in one of the following ways: 1- Download the PDF file on your device 2- Send the PDF to your Google Drive account 3- Send the PDF file to your Dropbox account. 4- Easily email the rotated PDF file to yourself and your friends 5- Send a copy of the download link of the PDF file to others 6- Scan the QR code on your phone
The Best Online Rotate PDF Tool
Some User Comments