Best Online PDF Reader
View PDF Files Easily With Our Best Online PDF Reader.
Read, View , Analyze, and Download PDFs Online - Instantly and Securely. No Software Required.
How To Read Pdf Online for Free
You are only 3 steps away from read pdf file
Simply choose the document or PDFs you wish to view by uploading a file from a folder on your computer or by dragging and dropping your documents from your desktop into our PDF Reader box.
After your PDF file has been processed by the system, click the "Open PDF" button to open your high-quality PDF in a new tab. You can easily read, zoom, rotate or download and print the pages of the PDF file.
Our software will automatically open PDFs in our online PDF reader. you can rotate the orientation of your document, adjust the zoom level, and even compare two documents side by side!
Video tutorial on how to Read PDF
In this video, you will learn how to Read PDF file in a few minutes
View PDF Files - FREE Online PDF Reader & Viewer

Safe online pdf reader
Uploaded files and data are automatically and immediately deleted after using the service. Converted files are deleted automatically by the system in 24 hours after conversion. No one has access to the files, and it remains no trace of the work once deleted. PDFtoConverter provides a secured service through SSL-based encrypted file transfe

Easy-to-use PDF Reader
Experience the power of PDF through a full functioned PDF Reader. Reading and printing PDF couldn't be easier. You can quickly view and manage any PDF file with a simple drag and drop. You can also share your PDF with others from within the tool.

Read PDF Anywhere
Use our FREE PDF reader and FREE PDF viewer online. Read PDF files and view PDF files with our online 3D reader and 3D viewer.
Our PDF Reader is available on Windows, macOS, iOS, android, the web, and Linux, providing a consistent reading experience no matter where you are and what device you're using.
Open ,display, print, and share PDFs online
Need to view a PDF? No problem! Just select the PDF you want to see, press the "Upload" button and wait for the message "File Successfully Uploaded" to appear. Then hit the "Open PDF file" button and you're all set! You can analyze, edit, share, or print it however you'd like and even download a version of your PDF. Plus, there's no need to install software - you can convert documents in different formats to PDFs and view them online in real time by dragging and dropping the file into the box. Our PDF to Converter's pdf reader tool even allows you to view pdfs from anywhere with an Internet connection - on Windows, Linux, Mac, iPhone or Android. So go ahead and give it a try!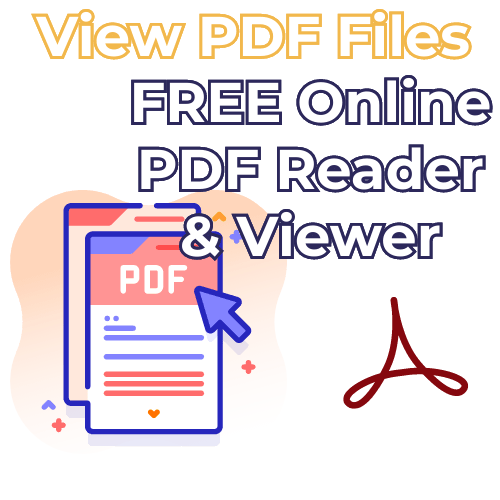 A free online PDF reader to display, print, or edit your PDF files
Get the best out of your PDF files with our free online PDF reader. Accessing .pdf documents from any computer with an online connection is now possible with our viewer tool. Whether you're at the office, home, or on the go, pdftoconverter.com's free PDF reader is available on desktop, mobile, and web. Discover a new way of reading digital books without having to use Adobe Acrobat Reader DC. It's easy, free, and fast! Try our online PDF reader today and see the difference!
Learn more about PDF Reader
---
Let's learn more about PDF converting
Frequently Asked Questions
There is no definitive answer to this question as different people have different preferences and needs. Some popular free PDF viewers include Adobe Acrobat Reader and Foxit Reader. You can also use the PDF Reader tool of PDF to Converter site for free and unlimited.
Some popular free PDF viewers include Adobe Reader and Preview. Also, you can view your PDF files online without installing any software using our PDF reader tool.
Nothing, On this website, use the "PDF Reader" tool to view & print and download your PDF files for free and without any restrictions.
How can we read the PDF online from the URL? You can view your PDFs with any device that connects to the Internet. To do this, type "PDFtoConverter.com" in your browser, then select "PDF Reader" from among the available tools. After processing, view your PDF file in the system or share the file link for others!
Supporting all operating systems Pdf reader is a web application served through a web browser. Our Pdf reader tool, supports all types of browsers, including IE, Chrome, Safari, FireFox and Opera. Our Pdf reader tool works for any operating system you use - Windows, Linux or iOS.
PDF Reader supports the most commonly used document formats, including Microsoft Office files. You can view the file with a PDF viewer and download the PDF file.
PDFtoConverter.com free PDF tool supports multiple platforms to help you manage your PDF files. Open PDFtoConverter.com in your Windows 10 browser and select the PDF files from your local drive or cloud storage to begin viewing, annotating and editing PDFs.This tool can be used on Mac, Windows, Linux, iOS, and Android.
You can choose the PDF file you want by using the PDF reader tool on our site.
Click the Upload button
When you see the message File Successfully Uploaded, you can click on the button to open the PDF.
And open the PDF file on your browser
The Best Online Read PDF Tool
Some User Comments